Wie die Überschrift schon verrät, habe ich eigentlich geplant dieses Outfit vor einem Magnolienbaum zu fotografieren. Ich habe es mir so richtig schön vorgestellt, wenn das schwarz-weiße Outfit im Hintergrund ein bisschen Farbe erhält - aber falsch gedacht. Ich habe leider keinen Baum finden können, der nicht hinter irgendwechen Hecken oder Mauern steht. Warum sind die meisten Bäume bitte noch einmal in Vorgärten und so? Warum gibt es denn nicht eine extra Allee damit - das wäre das reinste Paradies für Blogger. Naja wie dem auch sei, mein schwarz-weiß Outfit muss jetzt eben ohne Magnolienbaum auskommen.
Mir gefällt es aber trotzdem ganz gut. Wie findet ihr das Outfit? Ach und wie ihr seht, ist die Sonnenbrille, die ich trage, nicht dieselbe wie letzte Woche. Ihr werdet lachen, aber ich bin in H&M reinspaziert, habe sie aufgesetzt und mir hat sie auf Anhieb gefallen. Also habe ich kurzerhand eben eine Brille für ganze - jetzt kommt es - 6,99 € gekauft. Ist ja eigentlich auch total egal was so ein Ding kostet. Wenn sie passt, wird sie mitgenommen oder was meint ihr?
Translation
My plan was to take some pictures of this outfit with a magnolia tree behind me. This was the plan, but the reality was completely different. I couldn`t find any magnolia tree which is not standing in anybody's dooryard. Anyway, I still like this black and white look - also without the tree :-) As you can see in this pictures the sunglasses are not the same as these from my last outfit. I found this pair at H&M and cost only 6,99 €. I think the price is not the most important thing if the sunglasses are fitting. Right?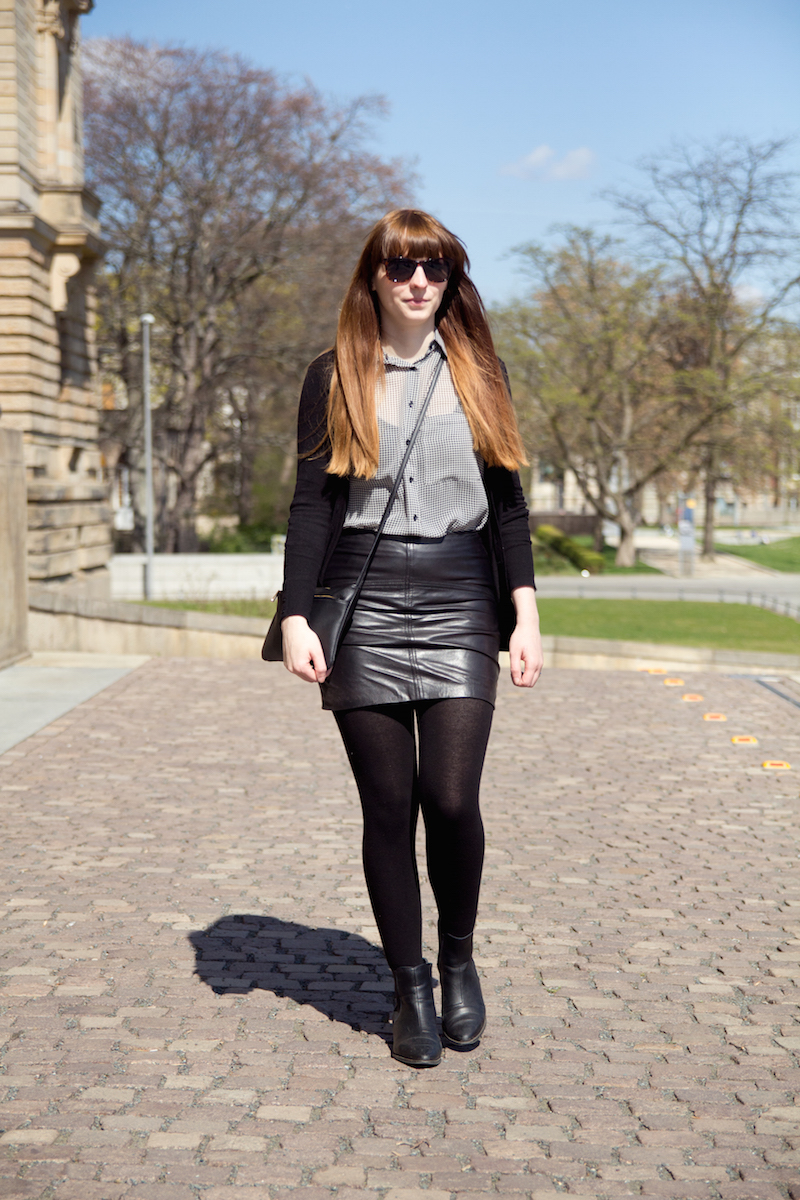 What I wear
houndstooth blouse (old): Zara (similar here & here); leather skirt: Asos (same here); Chelsea boots: Asos (similar here); bag: Mango (similar here)