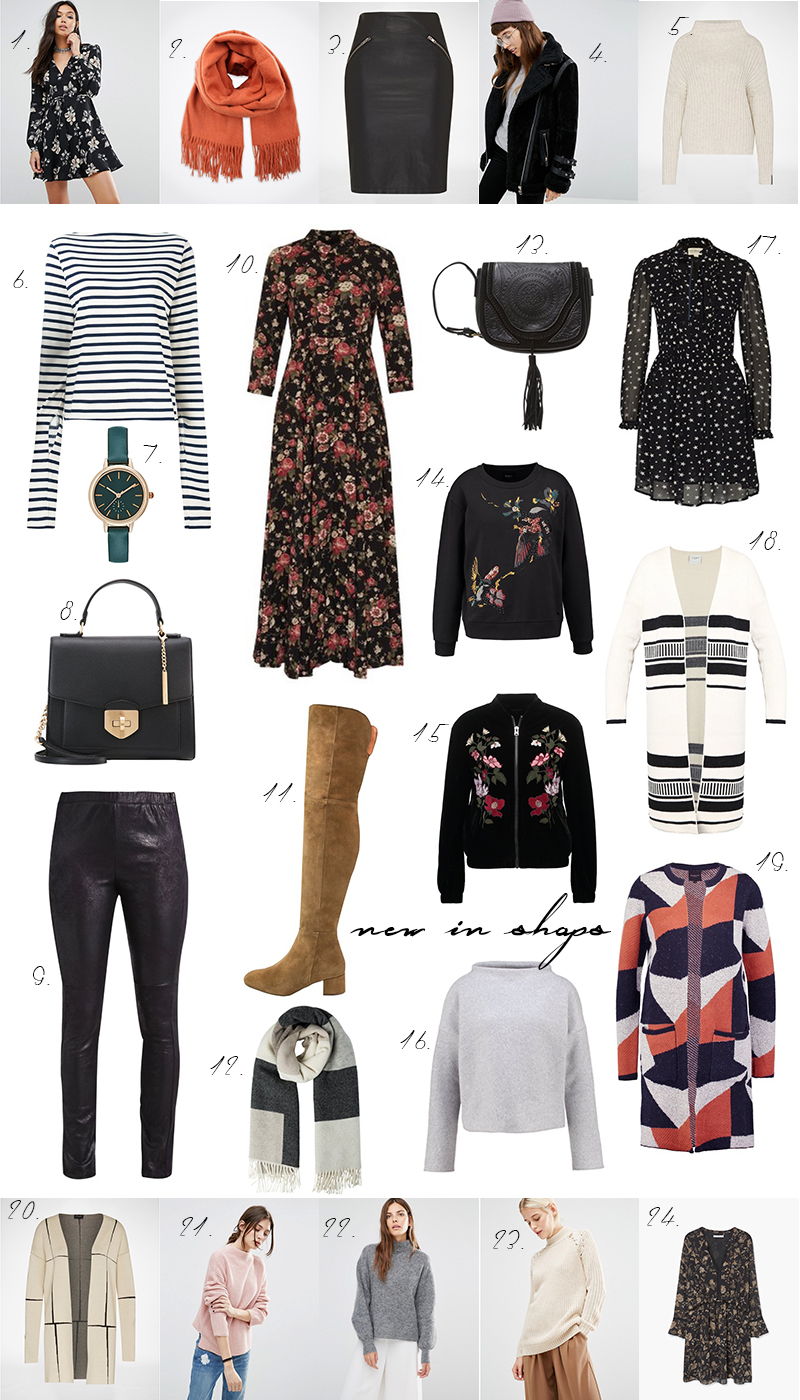 Zwei Wochen hatte die Kategorie new in shops dieses Mal Pause, denn letzte Woche wollte ich euch unbedingt meine Favoriten für die Glamour Shopping Week zeigen. Ich habe euch gestern in meinem favorites of the week Beitrag ja schon erzählt, dass ich schon kräftig bei Mango zugeschlagen habe :-) Es gibt aber auch schon wieder neue Teile in den Shops, die ich toll finde und die zeige ich euch heute wieder. Die Shopping Week läuft ja noch bis zum 08.10., mal schauen, ob ich noch etwas bestelle... Habt ihr euch auch schon etwas mit Rabatt in der Glamour Shopping Week gekauft?
Meine Favoriten in dieser Woche sind ganz klar die Kleider von DENIM & SUPPLY Ralph Lauren. Sowohl das Maxikleid mit Blumenprint als auch das schwarz-weiße Kleid mit dem Sternenmuster finde ich einfach ganz toll. Das Maxikleid kann ich mir sehr gut mit einer Jeansjacke vorstellen. Das schwarz-weiße Kleid würde ich wahrscheinlich mit einer Lederjacke kombinieren. Ich finde die schwarze Tasche von ONLY würde auch perfekt zu beiden Kleidern passen. Da es so langsam wirklich kalt wird, habe ich für euch ganz viele kuschlige Stricksachen herausgesucht. Die Pilotenjacke mit Lammfell von Asos hält einen bei den kalten Temperaturen bestimmt warm. Aber auch der graue Strickpullover von Warehouse oder der von Opus sind potentielle Lieblingsteile für den Herbst. Zu den grauen Oberteilen würde auch perfekt der Schal von Marc O´Polo passen. Wer etwas mehr Farbe mag, für den habe ich den coolen orangenen Schal von Modström herausgesucht. Zu dem Schal würde aus meiner Sicht wiederum sehr gut der Strickcardigan von Selected Femme passen. Ich habe so einen ähnlichen Strickcardigan von Selected Femme - könnt ihr euch noch an das Outfit damit erinnern?
Translation
I have a "new in shops" post for you. These are my favorite items which were added to the online stores in the last 2 weeks. I searched especially for knitwear which keeps me warm because it is getting cold outside. I really like this shearling jacket from Asos and this gray jumper from Warehouse.