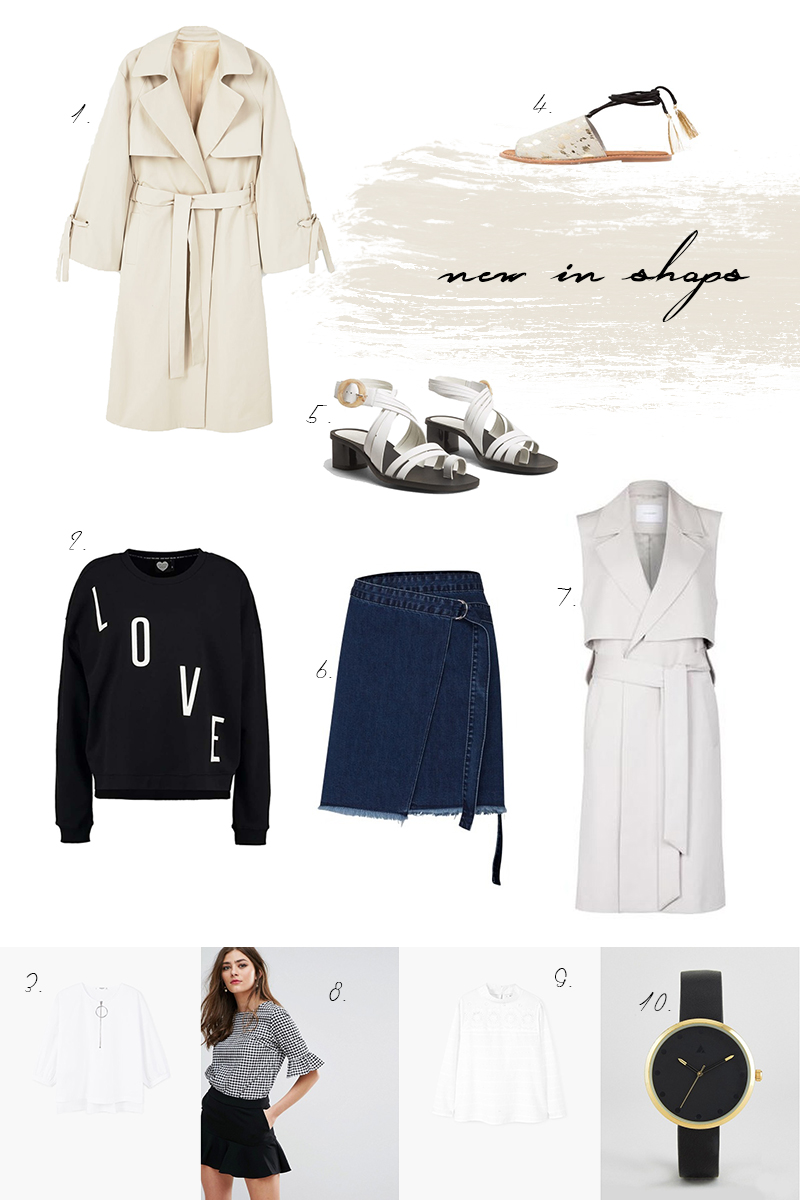 Eine neue Woche heißt auch wieder ein new in shops Beitrag. Das ist der letzte für den Monat Februar. Eigentlich ganz schön krass, wie schnell die Zeit wirklich vergeht. Morgen ist der 01.03. und es dauert nicht mehr lange bis zum Frühlingsanfang. Man merkt jetzt schon, dass die Tage langsam wieder wärmer werden und vor allem ist es Früh und Abends endlich wieder heller.
Wie auch schon in den letzten Wochen hat sich auch heute wieder ein Trenchcoat in die Collage geschlichen. Zusätzlich habe ich auch noch eine Weste im Trenchcoat Stil gefunden. Außerdem habe ich einen Statement Sweater herausgesucht. Ich kann ihn mir sehr gut in Kombination mit dem Jeansrock vorstellen. Zu dem Trenchcoat oder auch der Weste kann ich mir übrigens auch sehr gut die weißen Sandalen von Mango vorstellen. Die weißen Oberteile von Mango sind auch wieder ein Traum. Bei Asos habe ich wieder eine schöne Bluse im Gingham Muster gefunden und mit etwas ausgestellten Ärmeln. Für den Frühling perfekt. Wenn ich es mir gerade so anschaue, würde die Gingham Bluse wohl auch eine tolle Kombi mit der Weste abgeben.
Translation
This is the last new in shops post for February. Time flies so fast. Beginning of spring is already in 21 days. I found a really nice trenchcoat from Mango and this waistcoat from IVY & OAK. I think this gingham shirt would be a great fit for this waistcoat and these sandals, too.